Revenue management for small and large hospitality businesses
(and also for holiday resorts, conference hotels and campsites)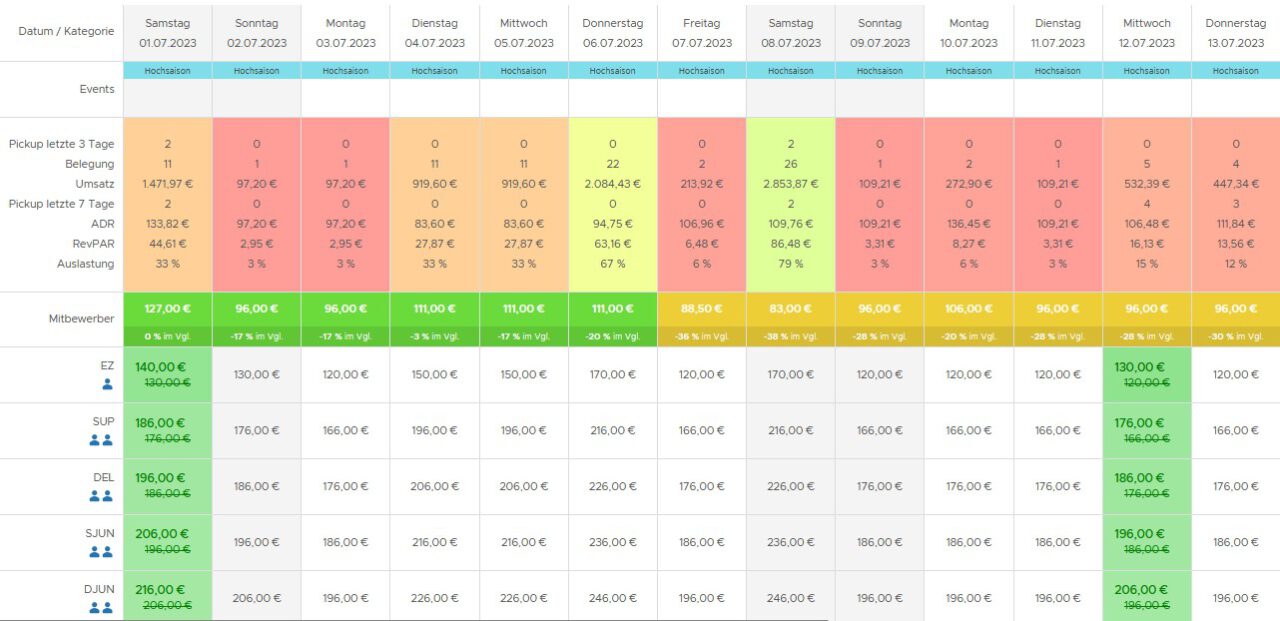 Revenue management is one of the most important pillars of a successful distribution strategy. Absolutely suitable for small and large hotels, for city hotels, holiday hotels, conference hotels and mixed businesses. In cities and in the countryside. Revenue Management is there for everyone and Revenue Management is also available in different stages of expansion.
Revenue management pursues the goal of offering the right product at the right time for the right guest at the optimal price and via the best distribution channel.

Why you can't do without a smart revenue management strategy?
All hosts have to react to fluctuating demand and respond to it with fixed capacities. Sometimes it's about getting the optimal price in times of high demand or getting the optimal utilisation out of the market in times of low demand.
Costs are exploding in all areas. Above all, the high proportion of fixed costs is giving the hosts a hard time. The returns are usually not sufficient to meet all the demands (faster design changes, better staff at higher wages, rising distribution costs, etc.). Hotels can no longer "leave money lying around".
Guests are different. They expect different room qualities, have very different levels of flexibility, have different willingness to pay prices. Your rates should react to this.
Distribution is becoming more and more complex. The complicated business models of the intermediaries, changing framework conditions due to the legislator and the increasing complexity of the technological development involved make pure "gut decisions" regarding the pricing strategy of hotels a risk factor. Revenue management and professional sales controlling must first create transparency and establish effective control mechanisms.
We set up the new strategy for you or implement everything for you up to the daily yielding.
Analysis and recommendations on your current pricing, sales and revenue management strategy.
Convincing employees and colleagues to become enthusiastic accomplices (because it only works together)
Recommendations, training, coaching of the acting teams
Selection of suitable software for the extensive automation of your revenue management and the associated distribution strategy
If you wish, you can outsource the daily revenue and distribution tasks to us.
First a seminar to bring the team along?