Tips and recommendations to help you get the most out of your participation in online seminars while appearing professional yourself.
Here's how to prepare for your webinar in the best possible way:
Would be nice if you look your best
There are webinars where you, the participant or attendee, remain anonymous to everyone else. That is not the case here. We ask you to participate with a picture (so use a camera) and voice capability (use an audio system). We are hosting a Zoom meeting. If this is your first Zoom meeting, you can test your technical equipment here: https://www.zoom.us/test
If we were in a face-to-face seminar, I'm sure you would find it very disconcerting if someone had a paper bag on their head and couldn't be seen. Therefore, we ask that you participate with a video camera for the sake of a good exchange among each other. However, for this you will need a stable internet line. If you are not sure, you can test it before the webinar. Just type in Google the word speed test. And then: perform speed test. Google will tell you after about 1 minute how fast your internet is on the network you are on.
A sample result might look like this: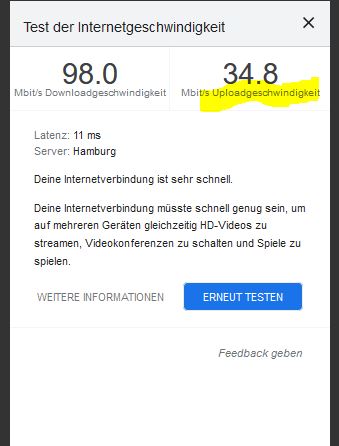 For webinar participation with video transmission and computer audio, a minimum upload speed of 3 to 5 mbit/s is required.  Moreisbetter. In this example test we even reach 34.8 mbit/s. So in any case on this users on safe side. If your speed test fails below 5mbit/s upload speed, you should consider upgrading your wifi contract or changing location.
Online professionals make sure that the camera is not filming from below, but is set up at eye level if possible. And that the person being filmed is well lit, meaning the light is coming from the front and not the back. A window behind you is also not recommended.
Please be on time:
Your trainer will already be in the webinar room 15 minutes before the start. So, just like a normal seminar, we can meet beforehand for a chat and a coffee. Only: you have to prepare the coffee yourself. Otherwise, the webinar will start on time to the minute. So please dial in at least 5 minutes before the start time.
Alone, in pairs or in threes?
As a lecturer or moderator of an online meeting or a webinar, I prefer all participants to take part with their own PC or tablet, rather than three or more sitting in front of a single video camera. For some training formats this is even an important prerequisite, e.g. to enable a targeted invitation to session rooms. However, if you have registered two people and two people are sitting in front of a PC, please make absolutely sure that both people can be seen and heard clearly. Please test this in advance.
If there are more than two people, good video conferencing and audio technology is required in the room. Again, it is important that each participant can be seen and heard well.
Online meetings are boring?
We do our best to make sure they are not. But especially with events that last longer than an hour, this also depends a lot on how the participants get involved and, for example, answer questions, participate in surveys or discussions. At good professional development events, participants also learn a lot from each other. So please share your experiences and get actively involved. This is how a good online meeting culture is created and we can use this tool -where appropriate- in a safe and time-saving way.